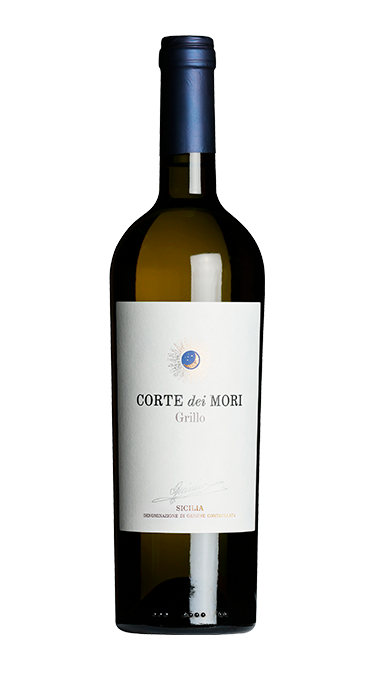 Production Area: Grapes are grown on the hills in the area between the town of Salemi and Gibellina.
Grapes: 100% Grillo.
Colour: Bright yellow with glints of shiny green.
Bouquet: Yellow flower notes intriguing with citric and rosemary notes.
Taste: Fresh and mineral, back taste recalls of citric notes blending with yellow peach scents.
Service: Serve at 14/16 degrees C.
[unex_ce_button id="content_4qpyvii90,column_content_hrcp04jo0" button_text_color="#000000" button_font="semibold" button_font_size="11px" button_width="auto" button_alignment="left" button_text_spacing="2px" button_bg_color="#ffffff" button_padding="5px 25px 5px 25px" button_border_width="1px" button_border_color="#000000" button_border_radius="0px" button_text_hover_color="#ffffff" button_text_spacing_hover="2px" button_bg_hover_color="#000000" button_border_hover_color="#000000" button_link="http://www.cantineminini.it/wp-content/uploads/2022/03/hr_CorteDeiMori_Grillo.png" button_link_type="url" button_link_target="_blank" has_container="" in_column="1"]IMAGE[/ce_button]
[unex_ce_button id="content_4qpyvii90,column_content_gdfbe9tcz" button_text_color="#000000" button_font="semibold" button_font_size="11px" button_width="auto" button_alignment="left" button_text_spacing="2px" button_bg_color="#ffffff" button_padding="5px 32px 5px 32px" button_border_width="1px" button_border_color="#000000" button_border_radius="0px" button_text_hover_color="#ffffff" button_text_spacing_hover="2px" button_bg_hover_color="#000000" button_border_hover_color="#000000" button_link="http://www.cantineminini.it/wp-content/uploads/2022/03/Grillo_Sicilia_DOC-1.pdf" button_link_type="url" button_link_target="_blank" has_container="" in_column="1"]PDF[/ce_button]