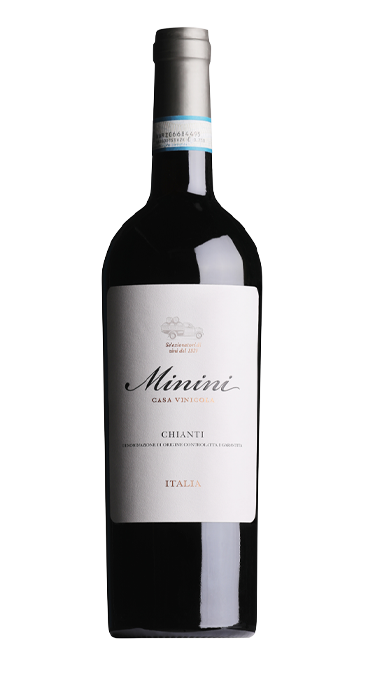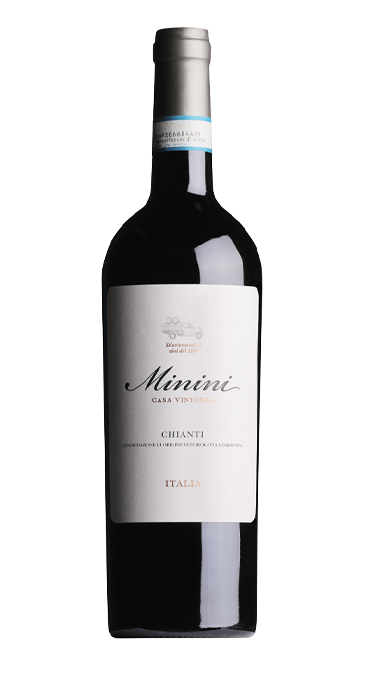 Production Area: Hills located to the north of Florence.
Grapes: Sangiovese, Canaiolo Nero.
Colour: Lively ruby red with glints of garnet with age.
Bouquet: Intensely vinous with hints of almond.
Taste: Harmonious, dry, sapid, slightly tannic smoothening with ageing.
Service: At room temperature.
Food Suggestions: Typical Tuscan dishes, soups, tasty pasta and grilled red meats.
[unex_ce_button id="content_z6opfam3a,column_content_6tthjg5gw" button_text_color="#000000" button_font="semibold" button_font_size="11px" button_width="auto" button_alignment="left" button_text_spacing="2px" button_bg_color="#ffffff" button_padding="5px 25px 5px 25px" button_border_width="1px" button_border_color="#000000" button_border_radius="0px" button_text_hover_color="#ffffff" button_text_spacing_hover="2px" button_bg_hover_color="#000000" button_border_hover_color="#000000" button_link="http://www.cantineminini.it/wp-content/uploads/2020/08/Minini_Chianti-1.png" button_link_type="url" button_link_target="_blank" has_container="" in_column="1"]IMAGE[/ce_button]
[unex_ce_button id="content_z6opfam3a,column_content_xj40qi9m7" button_text_color="#000000" button_font="semibold" button_font_size="11px" button_width="auto" button_alignment="left" button_text_spacing="2px" button_bg_color="#ffffff" button_padding="5px 32px 5px 32px" button_border_width="1px" button_border_color="#000000" button_border_radius="0px" button_text_hover_color="#ffffff" button_text_spacing_hover="2px" button_bg_hover_color="#000000" button_border_hover_color="#000000" button_link="http://www.cantineminini.it/wp-content/uploads/2020/10/Chianti_DOCG_EN.pdf" button_link_type="url" button_link_target="_blank" has_container="" in_column="1"]PDF[/ce_button]